OUR STANDARD

INTERVIEW
Coffee, disposable body warmers, seasoning powder, etc.
A surprisingly familiar technology company that creates "that" what you have seen!
The moment I met him at the seminar, he hoped to join the company with "love at a glance".
She builds machines for packaging products that she often sees in a well-ventilated work environment.
Mr.Kenta SuzukiTechnical department
What I was looking for was a "technical job" that felt close to my daily life.
When I attended a job hunting seminar, I first learned about the existence of Toyo machine manufacturing. When I investigated the booth with a light feeling, I found that I made a machine for packaging powders and liquids, and in fact, various products in my daily life are produced by the technology of this company. I wanted to get a job related to familiar things, but in addition to the interesting business content, I was attracted to the style of basically manufacturing machines "one by one" and wanted to join the company.
Accumulate more knowledge, experience, and make one machine by yourself!
Currently I oversee designing liquid stick wrapping machines. It makes me smile when I see the machine in shape after repeated trial and error, or when I see the opportunity moving. My future goal is to finish one machine by myself. As soon as possible, I would like to break through the current situation with the support of seniors and create a single machine on my own initiative. In addition, I would like to firmly master the 3D CAD skills that I am learning now, to be able to perform developmental movements, and to create epoch-making products that make use of curves. To that end, I would like to steadily climb the stairs in front of me, greedily for my knowledge and skills.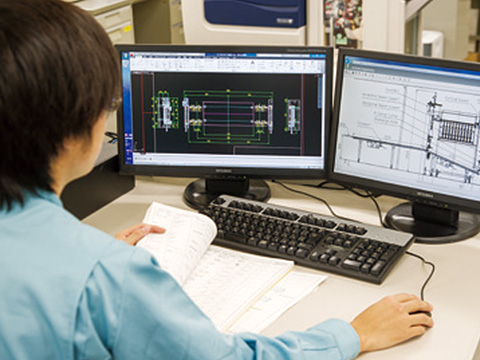 Making drawing by CAD system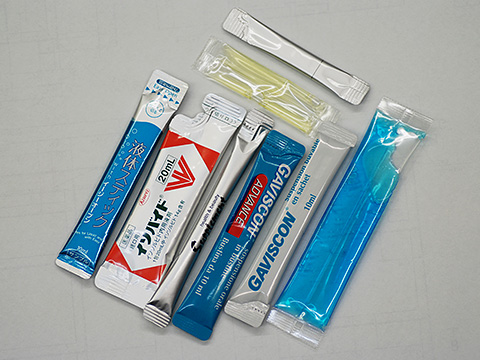 Liquid stick pack